Tuesday, May 08, 2012
TOTAL LEGIT!
TOTAL BS!



TOTAL CONTRIDICTIONZ! FUCK YEAH BIKE RACING IS DANGEROUS!
Posted by

dis
at 5:05 PM
No comments:
Links to this post

Thursday, May 03, 2012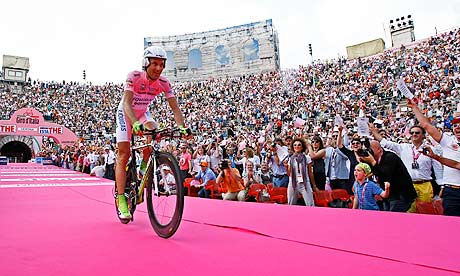 This time of year is a magical time in italy, as it is the start of the Giro.
Personally, I have started many gyros, but no Giro's. So, maybe my opinion is a bunch of crap. Or maybe not. I don't know.
I do know that I have several opinions, (they are like assholes, everyone has one- and i have at least two!), and I am going to share those opinions with you now.
Now, first off- I have not looked at the Giro route this year. I know it will most likely take place in Italy, and having never been to Italy before i feel confident in telling you a thing or two about how the race will unfold. I will now predict the top 5, and assess the rest in the world's most beautiful race!
Let's take a look at the contenders and pretenders:
Scarponi.
This dude got into the pink the easy way. Typical italian, am i right? After Contodor was suspended this winter, that meant Scarponi got to move up into the pink Albertador left behind. But Scarponi is not super stocked on sloppy seconds, and is on the path to win the thing out right this year. I think he has the forza to do it. But it won't be easy. 1st.
Cunego.
Will be Scarponi's bitch. I expect pretty much nothing from the petite princess.
Nibali.
He won't be there. But if he was he would win. Which is a damn shame. He deserves it.
Basso.
The big name cycling sites keep calling Basso a contender, so i will include him here even though he will finish about 10 minutes behind the winner after cracking like humpty dumpty after a great fall.
Kruizgner.
The astana rider. However you spell his name. he will probably step onto the podium, might win a stage, but the fact that he is russian means that he is genetically unable to win a grand tour. too badz. :(
Gadret.
THE NEW FROG HOPE. I think he is definitely good for second, and quite possibly the win, if Scarponi spends too much time worrying about how the wind is no long blowing thru his freshly shaven locks. he is the man to watch. will win a stage. 2nd*
Heysadahl.
Ryder is a rider. i think he will do pretty well despite sucking like a turbo charged hoover so far this season. i can't blame him tho, the whole garmin squad is right there with him. i expect they will get their shit together at some point and start destroying things again. maybe this is that time. 4th.
Rujano.
HAHAHAHAHAHAHAHAHAHAHAHAHAHAHAHAHAHAHA!
FSchleck.
Same review as Nibali. Except he will be there physically. Mentally he will be in france tho. 5th at best.
Rodriguez
He is the other half of the show staring Scarponi/Rodriguez. The only two who matter. I don't think he has the team to pull it off. sad face. 3rd for him.
There you have the rock solid guaranteed for sure top 5 in the Giro2012.
BAM.
*while physically capable, and strong on paper this is highly unlikely due to his frenchness.
LOL, good timez.
Posted by

dis
at 4:46 PM
No comments:
Links to this post